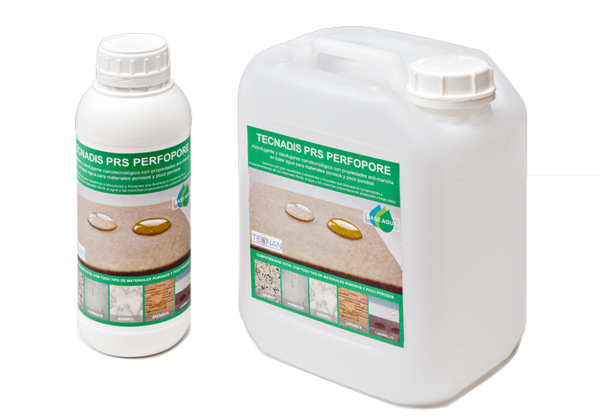 TECNADIS PRS PERFOPORE (water-based) is a hydrophobic and oleophobic product, transparent and colorless, based on nanoparticles of very high performance for floors and facades of any type of porous material. It reduces the absorption of any liquid of aqueous or organic origin. Mainly designed for the protection against water, oil and stains in general as well as everyday dirt (coffee, soft drinks, etc), facilitating their cleaning/removal by a simple washing with water and usual cleaning processes. It also protects surfaces against graffiti, facilitating its removal. Product of high durability and resistance to continuous mechanical action/abrasion.
Features: Water-based hydrophobic and oleophobic (anti-stain) protector with abrasion resistance for porous materials. Additional anti-graffiti properties, facilitating its removal.
Uses: Water-based treatment designed to be applied on facades and floors of any type of porous material.
Yield: Between 5 – 12,5 m2/l (Check Technical Data Sheet)
Standard formats: 1L, 5L, 25L.
– It avoids the accumulation and penetration of water and stains on the treated surfaces. It also facilitates graffiti removal.
– It does not create film, does not cross-link, allowing the complete breathability of the substrate.
– Product of high resistance to continuous mechanical action/abrasion (footsteps, rolls…) and of high durability. Guaranteed durability over 10 years against all types of external environmental conditions on facades.
– Total UV resistance.
– It does not modify the appearance, colour or structure of the treated substrate (in some cases, it may cause a slight tonality change, nearly undetectable).
– Active compounds do not react with the surface, maintaining the substrate unaltered.
– Thanks to its high water repellency (large rebound of water on the surface) it keeps surfaces free of dust and dirt for longer.
– Water-based product, not flammable.
– Free from smells and annoying fumes.
Easy to apply by brush, roller, airgun or spray systems (recommended).
Remarkable references of restoration works, conservation of heritage buildings, construction and rehabilitation in where our products have been successfully used.
Be the first in giving us your opinion