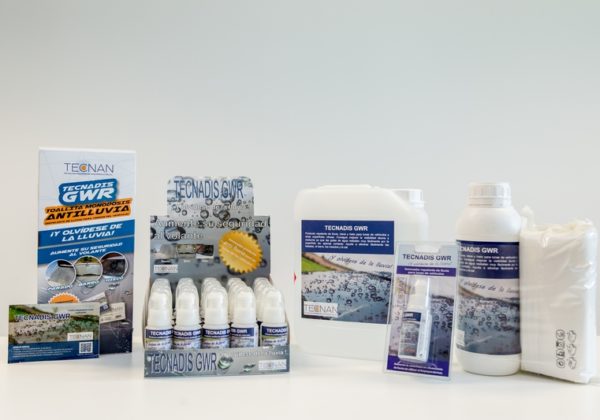 TECNADIS GWR is an innovative rain, snow and ice repellent product designed for vehicle windscreens. Thanks to its water repellent effect, raindrops barely touch the surfaces and roll easily until disappearing from the windscreen. The result is an improved both day and night visibility when driving without needing the use of wipers.
Durability of up to 12 months / 20.000 Km
Features: Rain repellent protector with additional anti-ice and anti-adherent properties (it eases the removal of ice until -5ºC and the cleaning of bugs and other dirt residues). Durability of up to 12 months / 20.000 Km.
Uses: Any type of vehicle glass (car, lorry, bus, train, etc.)
Yield: 10-15 ml/windscreen of standard size (70-100 m2/l)
Standard formats: One-use wipe, 50 ml, 500 ml, 1 L, 5 L and 25 L
– Suitable for the glass treatment of cars, lorries, buses, trains, etc.
– Product easy to apply.
– Good resistance to abrasion (washing systems, wipers, etc) with a durability of up to one year / 20.000 Km.
– Reduces frost/ice formation in freezing conditions, being easy to remove the ice from the treated glass.
– It does not release hydrochloric acid when it is applied.
– Yield or applied amount: 10-15 ml/m2
Report including technical characteristics, comparatives and advantages.
Professional vehicle windscreens repairing workshops, multi-brand car workshops, distributors of accessories and spare parts, cleaning and maintenance vehicle centres, car-dealers, petrol stations, supermarkets and retail distribution centres, police force and governmental fleet.
Be the first in giving us your opinion