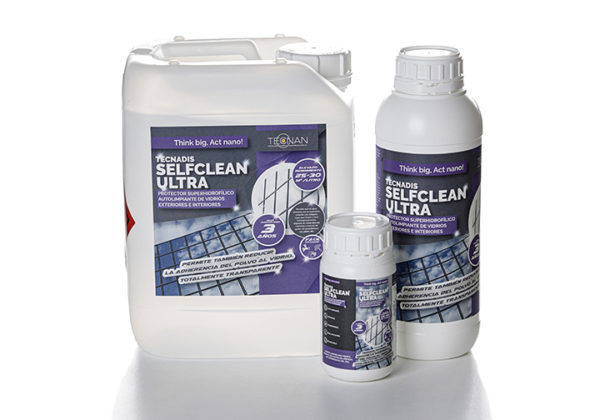 TECNADIS SELFCLEAN ULTRA is a superhydrophilic nanotechnology-based product for the protection of vitreous surfaces, which facilitates and reduces radically the maintenance and cleaning of glazed surfaces.
It protects surfaces from dirt stains, preventing its emergence thanks to the treatment action, which facilitates the formation of a thin layer of water instead of the formation of water drops and the disappearance of the residues.
Features: Superhydrophilic protector with additional anti-dust properties which eases glass cleaning.
Uses: Any type of external and internal glass
Yield: 25 m2/l approx.
Standard formats: 1 L, 5 L and 25 L
– It keeps glass surfaces clean for a longer time, reducing the cleaning frequency of them in ranges higher than 50%
– After application, the coating results totally transparent, not modifying the aesthetic conditions of the glass and even improving the visibility through it in rainy conditions.
– Having total resistance to UV radiation as well as a high resistance to atmospheric agents, the average durability of the treatment is higher than 2 years.
– Product very easy to apply. Applicable in glasses already installed and in continuous production facilities.
– It has excellent features and a high yield (approx. 25 m2/L).
Facility management companies, glass workshops, distributors of machinery, tools and accessories for glass and glass installers.
AMAZING ANTI-DUST EFFECT!
Spectacular SUPERHYDROPHILIC EFFECT!
Be the first in giving us your opinion