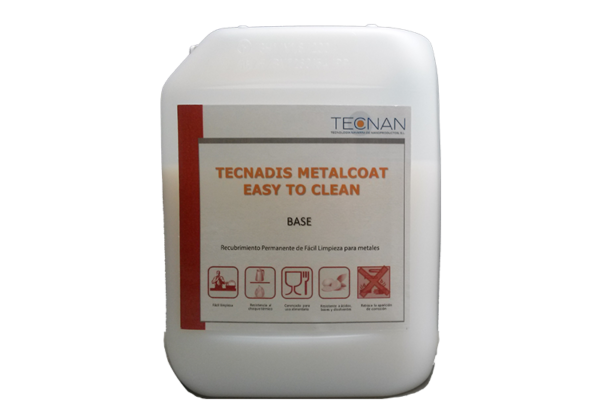 TECNADIS METALCOAT is a permanent coating with anti-adherent and anticorrosive properties for metallic surfaces, which eases and reduces the maintenance and cleaning tasks.
TECNADIS METALCOAT is directly applicable in agri-food industry, home appliance, food-related industry, moulding industry, kitchenware, screw industry, naval sector, paper and cardboard industry, graphic arts, baking and confectionary industry, water treatment plants and waste processing companies, among others.
Features: Ceramic protector with anti-adherent (easy-to-clean effect), extreme hardness and anticorrosive properties
Uses: Metals, ceramics and plastics, among others. Multi-sectorial applications.
Yield: 60-90 ml/m2 (BASE) – 60-90 ml/m2 (ENHANCER).
Standard formats: 1 L, 5 L and 25 L
– Product for easy cleaning with hydrophobic and oleophobic properties.
– It prevents dirt particles from sticking.
– It presents a permanent effect according to the requirements of some of the most important appliance producers.
– High heat shock resistance at 350ºC.
– There is not migration risk, in agreement with food Directive 2005/31/CE, Regulation 1935/2004, FDA 21 CFR 175.300 (base), and statement of safe use according to FDA regulatory compliance review and extracting test (ETC), and US FDA CPG 7117.06 & 7117.07.
– It presents good resistance to acids, bases and solvents.
– It is a transparent product, keeps the natural colour of the metal and the metallic surface.
– Easy application by means of common coating or painting techniques.
Technical report including product characteristics and certificates for food contact compliance (INS, CE, FDA).
Success cases for different industrial sectors (agri-food industry, home appliance, food-related industry, moulding industry, kitchenware, screw industry, naval sector, paper and cardboard industry, graphic arts, baking and confectionary industry, water treatment plants and waste processing companies, etc.)
Be the first in giving us your opinion