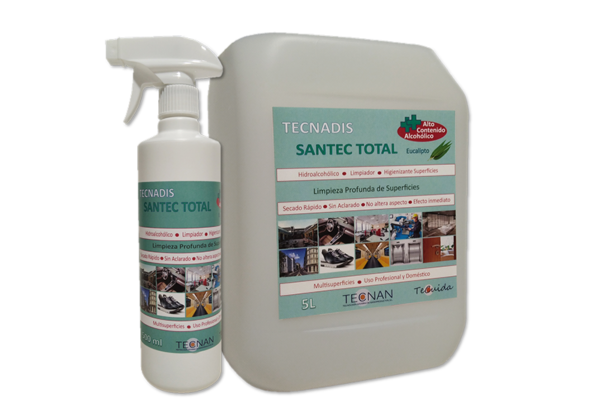 TECNADIS SANTEC TOTAL is a hydroalcoholic sanitising cleaner for all types of surfaces (deep cleaning). Immediate effect. Easy-to-apply by spraying over surfaces. Rapid evaporation. Its alcoholic formula removes any contaminants. For domestic and industrial use.
Features: Total surface sanitiser (deep cleaning).
Uses: Cleaner and sanitiser, effective for all types of surfaces:
Furniture and facilities of Hotel & Restaurant Sector and shopping centers

Office furniture

Urban furniture and buildings

Schools / educational centers

Vehicles

Industrial applications (equipment, machinery, facilities, tools, work tables, etc.)

Handrail, knobs, doors, lifts, etc.

Educational and sports facilities

Public transport (train, bus, plane)

Clothing (casualwear, sportswear, etc.) and leather goods (wallets, bags, etc.)

Home textiles (sofas, chairs, curtains, etc.)

Footwear (shoes, slippers, boots, etc.)

Sports equipment

Personal items for everyday use (keys, mobile phones, watches, glasses, shopping carts, etc.)

Etc.
Standard formats: Trigger spray bottles (500ml), 5L bottles
– Cleaner that removes any contaminant from all types of surfaces.
– It sanitises surfaces without damaging them, it does not change their appearance (it does not contain bleach).
– Highly effective, high alcohol content: 85%.
– Immediate cleaning and sanitising effect.
– No rinsing. Fast drying. It evaporates completely without leaving residues.
– It contains eucalyptus, releasing a pleasant aroma.
– The eucalyptus provides microorganism growth inhibition properties that additionally increases the sanitising power of the high alcohol content of the product.
– Colour: Colourless
– Solvent: Ethanol
– Ethanol content: 85% v/v
– Alcoholic grade: 80º-85º
– Ingredients: ALCOHOL DENAT, AQUA, HYDROGEN PEROXIDE, EUCALYPTOL
– Evenly apply by spray on the surfaces to be sanitised, if necessary, it can be spread with a cloth.
– Its application by spraying over surfaces or equipment provides cleaning and hygiene to them without the need of rinsing.
– FOR SUPERFICIAL USE
– Do not drink.
– Do not mix with any other substance.
Be the first in giving us your opinion