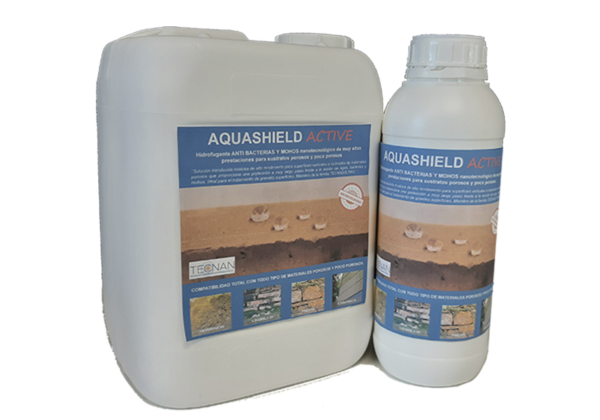 AQUASHIELD ACTIVE is a water repellent and microorganism (bacteria, moulds, moss, etc.) growth inhibitor product based on nanoparticles of very high performance. Breathable protector with high yield, designed for the protection of construction materials used in vertical and tilted surfaces.
Features: Water-repellent treatment that repels water and inhibits the proliferation of microorganisms for porous materials.
Uses: Treatment designed to be applied on facades, vertical and tilted surfaces of any type of porous substrate.
Yield: Between 3 – 8 m2/l (check Technical Data Sheet)
Standard formats: 1L, 5L, 25L.
– It avoids the accumulation and penetration of water, as well as the proliferation of microorganisms and moss, delaying its growth in the treated support.
– It does not form film, does not cross-link, allowing the complete breathability of the substrate.
– Completely transparent, respecting the natural colour of the original material.
– High resistance and durability.
– Total UV resistance.
– Totally re-applicable.
– The active compounds do not react with the surface, maintaining the substrate unaltered.
– Thanks to its high water repellency (large rebound of water on the surface) and its microorganism-growth inhibition, it keeps surfaces free of dust and dirt for longer.  Before application, the surfaces must be clean and free of fungus, bacteria, moss, etc.
Easy to apply by brush, roller, airgun or spray systems (recommended).
Remarkable references of restoration works, conservation of heritage buildings, construction and rehabilitation in where our products have been successfully used.
Be the first in giving us your opinion