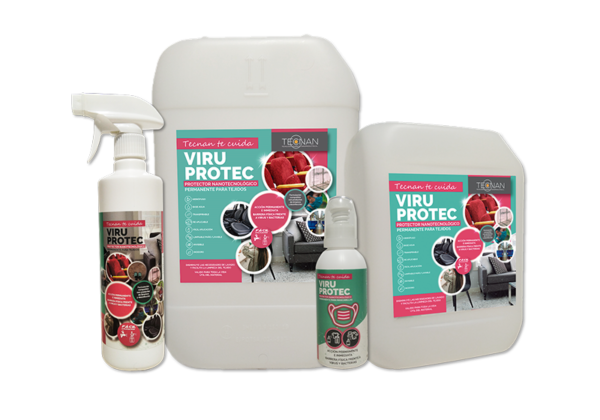 Permanent physical barrier (long-lasting), that slows down the growth of viruses and bacteria on all type of face masks and fabrics.
Main description: Nanotechnological permanent protector
Applications: Permanent physical barrier to face up viruses and bacteria for:
Face masks of all types:

Hygienic masks (reusable and disposable)

Surgical masks (type I and II)

PPE (FFP1, FFP2, FFP3).

Fabrics of all types: clothing, footwear, backpacks, gowns, textile furniture (upholstery, armchairs, sofas, chairs…), curtains, carpets, etc.
Durability:
It reduces washing needs up to 5 times.
It resists approximately 400 abrasions (equivalent to approx. 50 cleanings): made with sponge, cloth, microfiber.
Standard formats:
125ml and 500ml trigger sprayers.

5L and 25L jerry cans.
– Protection and sanitising with permanent (long-lasting) and immediate
– Physical barrier to face up the growth of viruses and bacteria:
– Hydrophobic and oleophobic nanotechnological protector, that repels water and stains, therefore it makes easier the cleaning and maintenance of the fabrics.
– It does not affect the breathability of the fabrics.
– Invisible, it does not change the colour or appearance.
– Complementary product (not substitute) that improve the safety of the cleaning and disinfection protocols.
– Compatible with instant cleaning and disinfection products, such as, soaps, hydroalcoholics, bleaches, quaternary ammoniums, etc.
– Odourless, after the complete drying.
– Fully reapplicable, a product excess does not affect its protective capability against viruses and bacteria, but it might slow down the drying).
– Water-based formulation, no need for rinsing.
– Dermatologically tested: non-irritating and good skin compatibility.
– Shake the container before its use.
– Spray evenly over the surface to be protected.
For face masks: approximately apply 20 sprays for adults and 15 sprays for children, on the outside.

For other fabrics, apply ensuring complete coverage of the fabric, when required, according to the material absorption.
– Drying time around 6h (depending on the material). Drying can be accelerated using the tumble dryer, hair dryer or by direct sunlight exposure.
– It can be reapplied when required, depending on the use of the face mask, clothing or fabrics and their washes.
– Reapply when loss of water repellency is observed. Reapply on clean and dry material: face masks, clothing or fabrics. Reapplications reinforce antimicrobial protection and revitalize the water-repellent and maintenance properties.
Be the first in giving us your opinion