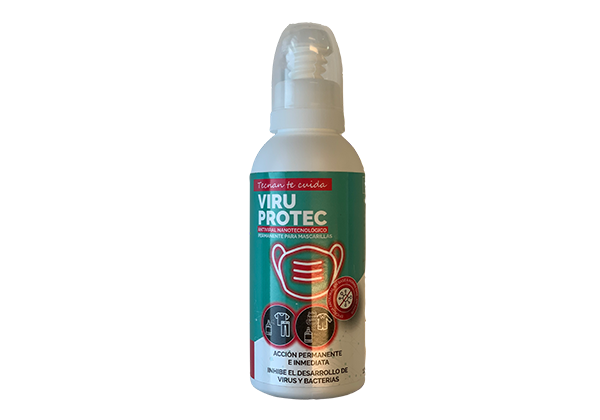 VIRUPROTEC is a water-based nano coating, specifically designed to slow down the development of viruses and bacteria permanently and immediately in face masks, clothing and fabrics in general that are susceptible to being contaminated.
Little description: Permanent nanotechnological protector product.
Applications: Recommended for the protection against viruses and bacteria of all types of face masks: hygienic masks (not reusable and reusable), surgical (type I and II) and PPE (FFP1, FFP2, FFP3). As well as for all types of fabrics.
Standard formats: 125 ml spray bottles, 500 ml spray bottles, 5L and 25L carafes.
– It slows down the growth of viruses and bacteria.
– It provides invisible nanotechnological hydrophobic protection, water repellency.
– It is suitable for all types of masks
– It allows the natural breathability process of fabrics.
– Washable and reapplicable depending on the use and the number of washes.
– Invisible. It does not change the appearance.
– Odorless, after about 6 hours of drying (variable depending on the material).
– It can be perfectly reapplied without removing the previous product remains.
– Water-based formulation, spray application. No need for rinsing.
– Application on demand, an excess of product does not harm its antiviral properties, it even improves and / or reinforces in case of re-applications, but it can slow down the drying time.
– Shake the container before its use.
– Spray evenly over the surface to be protected.
For face masks: approximately apply 20 sprays for adults and 15 sprays for children, on the outside.

For other fabrics, apply ensuring complete coverage of the fabric, when required, according to the material absorption.
– Drying time around 6h (depending on the material). Drying can be accelerated using the tumble dryer, hair dryer or by direct sunlight exposure.
– It can be reapplied when required, depending on the use of the face mask, clothing or fabrics and their washes.
– Reapply when loss of water repellency is observed. Reapply on clean and dry material: face masks, clothing or fabrics. Reapplications reinforce antimicrobial protection and revitalize the water-repellent and maintenance properties.
Be the first in giving us your opinion